Drivers unprepared for winter conditions pose a considerable safety threat to themselves and those around them. Iowa DOT knew that it needed to find a way to allow the public to make informed decisions regarding their transportation.
With significant investments in public safety measures, including snowplows, traffic operations, and bridge cameras, Iowa DOT had valuable data. The problem was that it was scatted across applications. The data needed a way to be brought together and easily communicated in real-time.
Iowa DOT wanted to build APIs to make their real-time public data more accessible. This meant being able to provide the public with integrated data in a variety of usable formats plus offer a live-update map.
How they made it possible – no code required
The Iowa DOT team created real-time FME workflows that read traffic operations XML feeds like cameras, DMS, 511 events, and Waze.
They also created a custom API library along with Esri Road & Highways. These workflows transformed the data through filters and formatters and provided it to citizens in various usable formats, including Oracle Spatial, ArcGIS Online REST Services, email, and JSON/XML.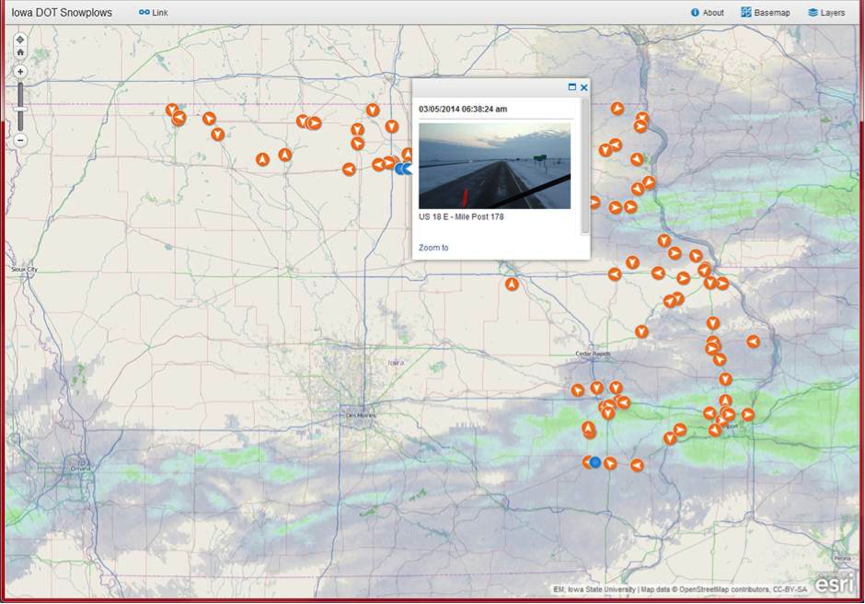 In the end, application integration allowed the data to be shared with the public so they can make better travel decisions. One of the resulting maps is even used by a local TV news station to provide live updates. You can browse through a selection of public maps at the IOWADOT Interactive Map Portal.
miles of roadway maintained