A new approach to data collection was needed following the Russia-Ukraine war
For over thirty years, The HALO Trust has been leading efforts to protect and save lives and restore communities and livelihoods of those threatened by the deadly debris of war. With operations in 25 countries and 10,000 employees, HALO has transformed the future for millions of families.
One of the countries that have been benefiting from HALO's humanitarian work is Ukraine. HALO has been operating in Ukraine since 2015 clearing minefields in the east of the country. After Russia launched a full-scale invasion of Ukraine in February 2022, HALO had to stop its operations in the East and start working in the areas around Kyiv where the fighting had stopped. Given the nature and the scale of conflict HALO had to adopt the way of collecting data about the presence of explosive remnants of war by making good use of open-source data.
How they made it possible – open source data mapping
To enable operations in an active war zone, the Information Management team at HALO started leveraging open source data. Information about different types of incidents involving explosive ordnance was collected from various open data sources, such as social media sites and data aggregators, and then processed, geolocated, and published to their Esri ArcGIS web maps. Particularly, FME Flow workflows were set up to automatically pull new data from the sources via the APIs every few hours, transform and publish the data to interactive web maps, providing its field operations teams and executives at HALO, government donors, as well as international stakeholders with the latest information about where threats, contamination, and munitions are located inside Ukraine.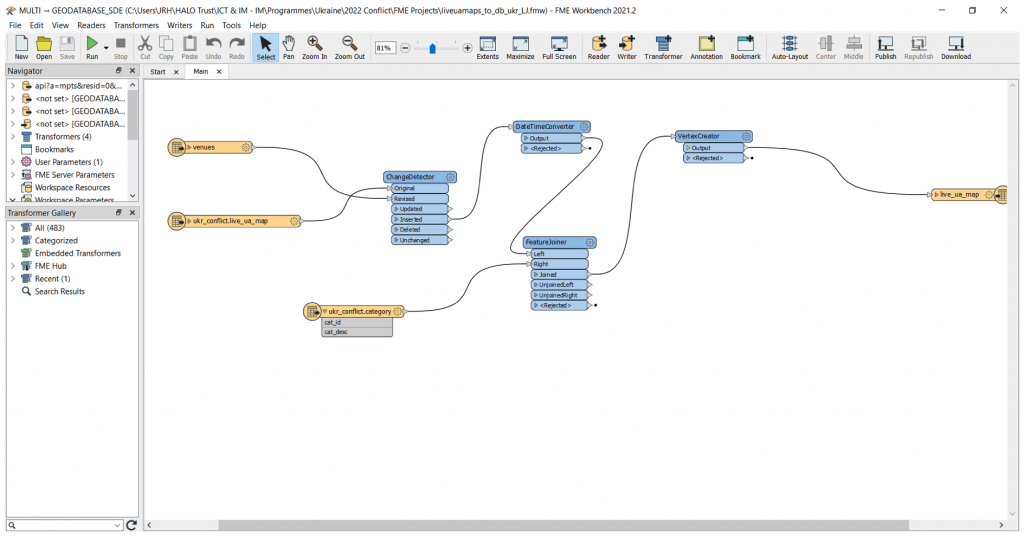 FME Form workflow pushing the data from liveuamaps API into a PostgreSQL database.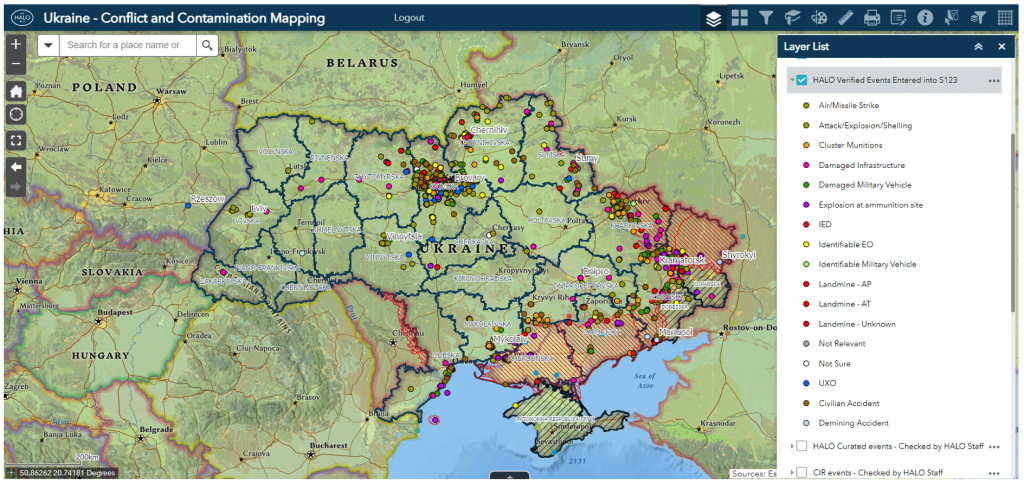 Dynamic web map in ArcGIS Enterprise displaying the data for Ukraine being pushed by FME Flow into a PostgreSQL database.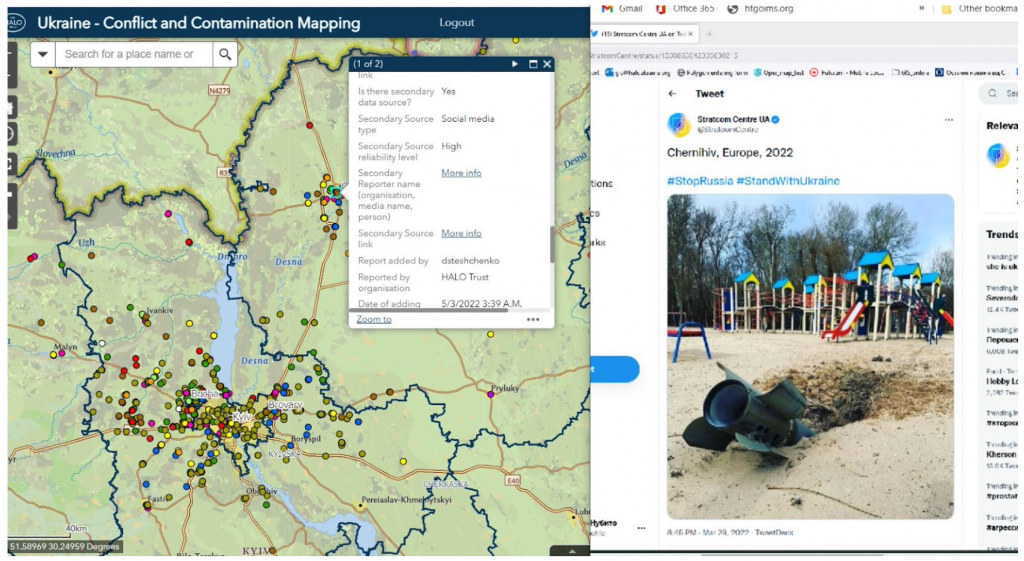 Drilling down on records provides a link to the original social media (e.g. Twitter, Telegram) post.
With the ability to collect live open source data using FME to inform planning and decision making, the team at HALO was able to resume operations in Ukraine in the areas where the fighting had ceased. Automated data workflows eliminate manual and duplicate work, reduce human errors, and bring huge time savings to the organization. To continue realizing value from automation, HALO is looking to use FME for the data transfer from their internal operations information management systems in 25 countries  to the national mine action databases – IMSMA (Information Management System for Mine Action), keeping both systems up-to-date without human intervention, reducing duplicate data entry, and cutting down on human error.